Last week I teamed up with Eian Orange to bring you Gematria of Nothing 1.
Now we're back with GoN2: Gematria of Nothing Atu of Zos Kia! (He passed me all the content, originally from Infek Bin Laden of the AutonomatriX. I just added it to the sigil generator)
Just choose "Gematria" from the dropdown in the sigil generator and choose GoN2 as the cipher to convert into numerology according to the GoN2 cipher!
---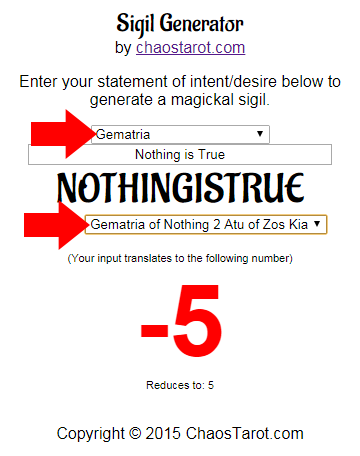 | | |
| --- | --- |
| Letter | GoN2 |
| A | 13 |
| B | 12 |
| C | 11 |
| D | 10 |
| E | 9 |
| F | 8 |
| G | 7 |
| H | 6 |
| I | 5 |
| J | 4 |
| K | 3 |
| L | 2 |
| M | 1 |
| N | -1 |
| O | -2 |
| P | -3 |
| Q | -4 |
| R | -5 |
| S | -6 |
| T | -7 |
| U | -8 |
| V | -9 |
| W | -10 |
| X | -11 |
| Y | -12 |
| Z | -13 |