Here's a ritual I came up with on the beach for charging sigils. It makes use of a technique called Augmented Unreality, and also has some elements in common with The Gate Trick found here. It's a mental exercise and symbolic visualization process that combines calm meditation with a series of visceral experiences. This mixing and alternating of inhibitory and excitatory states has been helpful to me and was originally performed in Lake Michigan.
1. Design a sigil that has some horizontal elements that will match up to the horizon if visualized in front of you. You can find a better description of what I'm talking about in this article about Augmented Unreality.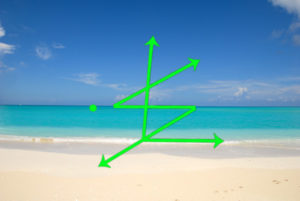 2. Meditate on that sigil, while mentally lining it up on the horizon as indicated above. Visualize the watery horizon, the line between the water and air, as being the barrier (like the gate in The Gate Trick) between you and your goal, like a membrane between the reality where your desire is will come true (water), and the reality where it will not (air). (Do this for a long time)
3. While maintaining your trance as best you can, and with eyes still locked on the horizon, slowly rise and make your way into the water. Continue to imagine the line between water and air as the barrier between you and your desires as you slowly step into it. It helps if the water is cold (a little physical shock to clear the mind further into gnosis), but it's not necessary. Walk out to a point where you can do a warrior pose (yoga) against the force of the waves and your head is above water. Continue your meditation and the barrier visualization. From this vantage point the barrier between you and your goals will seem much closer, and much less rigid. Compared to being up on the beach you will see much more movement in the horizon line from this lower perspective as the waves dance, causing the barrier to blur and flex over the stationary lines of your sigil. You're about to break through, the barrier is weakening! Reflect on how distant and unattainable your goal (the horizon) seemed before, and how much closer it seems now by moving your perspective. Indeed as a wave rises in front of you the visible horizon becomes very close! (Do this for a long time)
4. Continue meditating on the horizon from this new position. Try to get back any focus you lost when you were slowly rising and entering the water in the previous step. Continue to focus on the horizon, line the sigil up with it in your minds eye, and imagining the barrier between air and water is the barrier between you and your goals, or the reality where they are possible. As you do this, slowly inch out into the water while maintaining your balance against the waves in stillness as much as possible. Close your mouth and let the water get dangerously close to your nose as you go deeper and deeper. As the waves are rolling in this creates some level of uncertainty and danger and you may have to hold your breath for short periods as the waves rise over your face. With regard to the barrier this represents you being nearly all the way through, and the fear that comes with change. Use the fearful feelings of waterboarding to go deeper into gnosis. Continue reflecting on how much closer your goal seems as you change your perspective by going deeper. As your eye line creeps closer to the water level your perspective is just on the threshold of the barrier. (Do this for a long time)
5. After you have stayed in this position for long enough, fully grasping your mental position of being just on the verge of totally immersing yourself in a reality where your desires can come true, go ahead and take the plunge and dive completely into the water. Again, if the water is cold the shock of putting your face in can help you clear your mind for gnosis. Swim down, down, down, and then across the bottom of the sand, looking up at the rippling barrier between air and water, between you and your goals. Recognize how far above you it is, having fully crossed over into a reality where your goals are possible. Where you were rigid and motionless before, now you are swimming hard and fast. No longer are you poised on the edge, instead you are now freely moving about and traversing this new reality that is completely surrounding you. You are there. Focus on this thought, and the sigil far above you that represents where you crossed over. Continue to do this until you begin to run out of air and use your bodies panic response to achieve deeper gnosis.

6. Finally it is time to come up, but in your minds eye you are not in the same place. you crossed through the membrane between the reality where your statement of intent/desire is not so, into a reality where it is so, or is possible. You swam all the way through a gateway and imagine you are coming up to see a different beach. It looks the same, but you are in a new reality now where your intent/desire can come to pass. This is your birth into a new world of possibilities. Think of it as such while you take your first desperate breath, and use that visceral rush of finally getting air to sink further into gnosis.
7. Collapse on the beach, let the air and sun dry you as you relax and meditate and contemplate your journey. Reflect on the scary parts, and how they are a natural part of change. From a caterpillar perspective the world seems to be ending, but it emerges transformed instead. Enjoy the beauty all around you in contrast to struggling for air moments earlier. Take it all in and banish with laughter.
If you use The Forty Servants you might consider calling upon The Gatekeeper for this.
DISCLAIMER: Don't drown yourself you twit! This entire thing can be done in water that is not even over your head. If you simply rise out of your deep warrior pose your head will be completely out of the water. Know your limits. Whoever does this assumes full responsibility for their actions.