I have launched a magic squares sigil generator. Right now I only have a 3×3 simple numeric kamea 1-9 as sometimes used by Austin Osman Spare. This is fine for anyone who doesn't care about the planetary significance, but I will add the planetary kameas next. I also plan to combine this with my word-method sigil generator in the future instead of having separate tools.
There are several options including color, method of removing duplicate characters, removing vowels, removing duplicates, etc. I want this to be a robust tool for magick users everywhere.
Edit 4/2/18: Added Hebrew language kamea below, now that all kameas support Hebrew language input.
✴ Numeric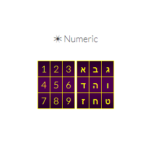 This was inspired by the wonderful work over at sigilscribe.me I just wanted to make one with more options and that removed double-letters in the order I am familiar with.