I don't really give a shit if people think witch kits are tacky or cultural appropriation. I'm a chaos magician. I don't believe in gate-keeping, one group owning magick, or that some group owns sage any more than Rastafarians own weed.
The art they used from an independent artist without permission however, somebody actually did own. And that's a shitty thing to do.
"Sephora STOLE the artwork for the deck from an independent artist who had no clue her artwork was being used until this kit started going viral on the web!" [1] [2]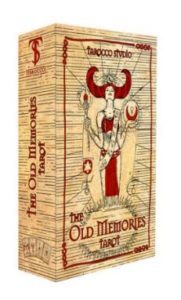 If anyone is curious, here's more of my take on the cultural appropriation aspect taken from my reply in CMG Main:
Here's what I think: I wasted like 20 something years of my life NOT doing magic because Wicca seemed stupid to me at 16yo.

When I finally found a system of magic that made sense at 38yo, it made Wicca make sense too, and encouraged using it and many other models and paradigms.

I'll never get that time back, but I will avoid wasting time in the future by being done hating.

Buy a Avon witch kit, listen to Nickelback, order your steak well done. Do whatever the fuck makes you happy man, and let everyone else.

This is just like when skateboarding went mainstream. More great skaters. Less people looking at me like I'm a piece of shit. What's there to complain about?

Give society permission to open it's mind. Training wheels look pretty stupid at first too but they work.
Edit: Removed link to an earlier tarot (shown above) with this artwork as the last I've heard is that they are not the legit owners either.
Edit: Regardless, they are also inexplicably using Prince's symbol, as if they just WANT to be sued.
U.S. Reg. No. 1,849,644 for entertainment services
U.S. Reg. No. 1,871,900 for posters, publications, bumper stickers and stickers
U.S. Reg. No. 1,860,429 for clothing
U.S. Reg. No. 1,822,461 for sound recordings and videotapes featuring music and entertainment
Update 9/7/18:
They have apologized and stopped production.
In a statement released Wednesday they explained
They are profoundly sorry
…but they didn't do anything wrong
…and the company is owned by women (?)
They also linked to where they purchased the art on a stock photo site without addressing if the seller was the actual artist, or if they had the rights to use the symbol trademarked by the Prince estate.
So the art issue is now moot, because magickal gate-keeping has shut the whole thing down, ensuring once and for all that Tiffany will never be in your witch club because she made fun of you in 4th period.