I have decided to share my sigils in an online sigil portfolio you can find here. A sigil portfolio helps magick as a whole in my opinion. The more sigils that are out there in an image search the more inspiration is available to new students of magick who are trying to figure out how to draw sigils themselves. Also having a portfolio will come in handy if my little black book is ever lost or stolen. Now I will have a backup online.
The Sigil Portfolio
These are the ones I work with day to day, not works of art crafted in photoshop. As such, all sigils will appear in the format of a simple photograph of my sketchbook, like so: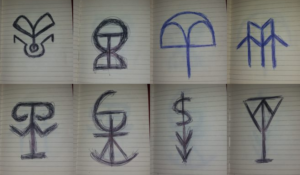 Items will appear from newest to oldest. Check it out if you are interested, I know other practitioners work definitely has an influence on my own!