Ready for some Yoga Magick? Because I know so many people online already doing yoga magick, I've just added Bikram Yoga as an output on the sigil generator.
Bikram already uses the 26 poses in Bikram so I just correlated them to the 26 letters in the English alphabet.
Type your intent into the generator
Get the sequence of yoga magick poses that are displayed
You can enter gnosis via transient hypofrontality while repetitively performing them like a mantra.
Note: I've also slightly rearranged the menu.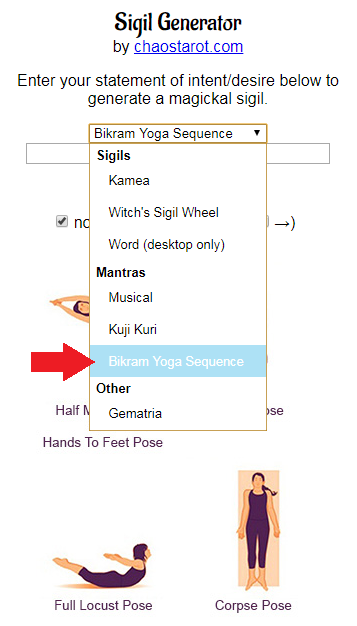 Yoga and magick have a bit of a history. It's well known for example, that Aleister Crowley took quite an interest. As he put it, both yoga and ceremonial magick are "the art of uniting the mind to a single idea".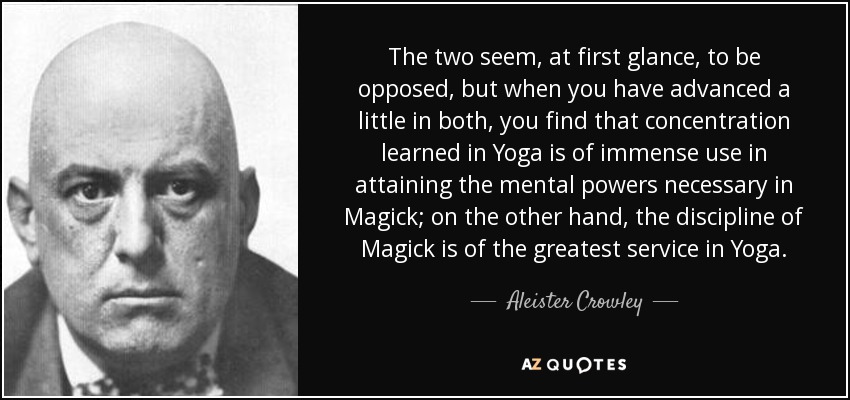 "The two seem, at first glance, to be opposed, but when you have advanced a little in both, you find that concentration learned in Yoga is of immense use in attaining the mental powers necessary in Magick; on the other hand, the discipline of Magick is of the greatest service in Yoga." – Aleister Crowley
Bikram Yoga is a system of yoga that Bikram Choudhury synthesized from traditional hatha yoga techniques. It became popular in the early 1970s. All Bikram Yoga Beginning Series classes run for 90 minutes and consist of the same series of 26 postures, including two breathing exercises. Bikram Yoga is a hot yoga style, and is ideally practiced in a room heated to 35–42 °C (95–108 °F) with a humidity of 40%. All official Bikram classes are taught by Bikram-certified teachers, who have completed nine weeks of training endorsed by Choudhury. Bikram-certified teachers are taught a standardized dialogue to run the class, but are encouraged to develop their teaching skills the longer they teach. This results in varying deliveries and distinct teaching styles.
Edit 3/21/18: These two images were mislabeled. Fixed but you may need to refresh on them.